The Profercy Nitrogen Service
Since 2004, the Profercy Nitrogen Service has provided unrivalled news and analysis of the world nitrogen market, covering all major products in all regions.
Our service provides a unique package of expert analysis, market news and forecasting, as well as key prices for nitrogen products. Subscribers include producers, trading companies, importers and distributors, as well as financial analysts worldwide.
To review the service, including our regular market updates and weekly reports, you can sign up for a free trial below.
Our Service
Daily market news: Regular market updates covering the latest trades and tenders, bids and offers, alongside Profercy's insight into the latest developments
Weekly market analysis and prices: Comprehensive and accessible weekly reports providing over 45 price ranges alongside concise market analysis – our prices are used in physical contracts and swaps markets worldwide
The Service also offers access to Profercy Nitrogen's full price history and our fertilizer market experts.
To see an overview of our daily, weekly and monthly reports, including details on the key nitrogen prices included, you can download a sample pack here.
Coverage
The Profercy Nitrogen Service provides unique insight and analysis into global nitrogen markets, trade and prices. The Service covers all major export origins and markets for:
Prilled and granular urea
Ammonium Nitrate
UAN
Ammonium Sulphate
Ammonia
Daily news direct to your inbox
The market can move quickly and on one piece of news. Profercy's regular market updates cover the latest trades and deals, upcoming tenders as well as factors influencing supply and demand.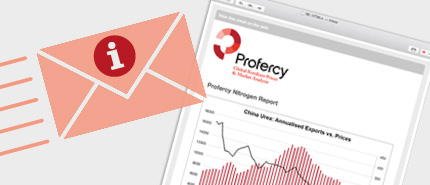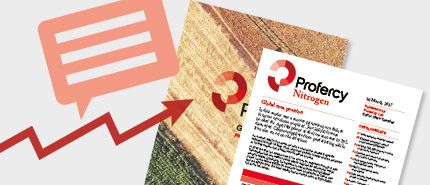 Expert market analysis throughout the week
Profercy's weekly reports and regular market forecasts provide unrivalled expert analysis of the prospects for the global nitrogen market. This includes coverage for prilled and granular urea, ammonia, AN, UAN and ammonium sulphate.
Over 60 reliable price assessments covering all major markets
Profercy's price assessments are trusted by industry professionals across the globe. Every week Profercy Nitrogen's key price assessments are used to settle physical contracts and support the growing fertilizer swaps market. The Nitrogen Service covers over 60 key price points.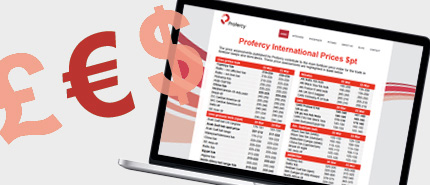 Forecasting & Market Outlook Reports
We also publish quarterly forecasting reports for both Urea and Ammonia. More information available via the options below.