The article below provides a brief analysis of activity in nitrogen markets this week, drawing on Profercy's World Nitrogen Index. For more information on global fertilizer markets, including specific market prices and analysis, please contact us to request a a free trial of our Nitrogen market reports. 
Highlights
US prompt prices remain firm, supporting netbacks for Middle East product. Further out, US corn prices and import line up a concern
Continued supply cutbacks in Egypt and Yuzhnyy aid granular and prilled urea prices
Indian set to book large volumes of urea next week – China aiming for higher prices
Activity this week
Profercy's Nitrogen Index rose nearly 2 points this week on the back of price gains for granular urea. US prompt prices remain firm and the week saw US Gulf barge trades some $15ps ton higher than last week. With the Middle East the primary origin for US urea imports, these price gains supported a further $18pt increase in Profercy's Middle East price range.
Staying with the US, there has been a lot of speculation this week regarding the impact of the depreciation in corn prices and the level of planned imports on future US Gulf urea prices. The situation is worth monitoring although it is worth highlighting that there is already a significant gulf between prompt prices and prices 30 days out – some $70pt. Further information was published in yesterday's weekly Nitrogen Report.
Elsewhere, with much production in Egypt curtailed, perhaps until end-August, Egyptian granular urea prices consolidated, with the low-end of our range rising by $10pt. While no further price gains for Yuzhnyy prilled urea were witnessed this week, production cutbacks continue to keep prices above $300pt.
As reflected in the graph below, Profercy's World Nitrogen Index is above 160 for the first time since 8 May and 5.4% higher than the 22 May low of 153.09. The PWNI stands at 161.35 and is up 1.93 on last week.
Major Indian purchasing tender set for next week
India is set to purchase large volumes of urea via a tender taking place this coming Monday (21 July). The tender was originally scheduled for this week and follows a tender last month in which 300,000t of predominantly Chinese prilled urea were booked. Chinese product is expected to feature heavily again, although producers there will be keen to see much higher prices this time round. A Chinese trade body has already called on producers to hold prices some $20pt higher than in the last tender, although it remains to be seen whether this will be the case.
Price and market analysis related to Monday's tender will be made available through the Profercy Nitrogen Service. For more information and to register for a free trial, click here.
[tabs][tab title="Profercy Nitrogen Index – 2012 Onwards"]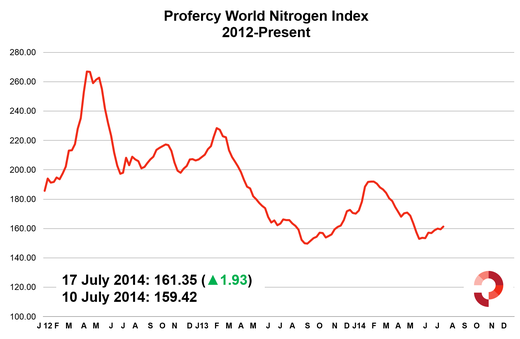 [/tab][tab title="Profercy Nitrogen Index – 2009 Onwards"]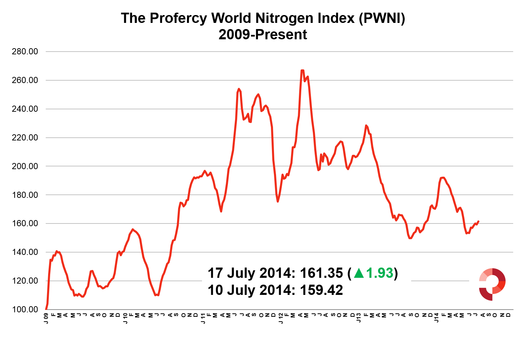 [/tab][/tabs]
Methodology
The Profercy World Nitrogen Index is published every week and is based on price ranges provided by the Profercy Nitrogen Service. This includes prilled and granular urea, UAN, AN, ammonium sulphate and ammonia. A full methodology can be found here.
Free Trials of the Profercy Nitrogen Service
Profercy's Nitrogen Service includes daily news, weekly analysis and monthly forecast reports. For more detailed information on specific products and individual markets, please sign up for a free trial or for more information on the Profercy Nitrogen Service, please click here.