Nitrogen Index sees slight increase as buyers resist urea price gains
Ammonia prices surge ahead in East and West
Profercy's Nitrogen Index has seen an increase of nearly 18 points since the end of July. Significant price gains for urea and a tight ammonia market, followed by stronger nitrate and ammonium sulphate markets, have supported the increase. However, last week's TFI Conference in San Francisco did not see a continuation of the massive price gains for urea.
Although many attendees acknowledged that global urea supply remained tight, buyers in Latin America resisted further price increases for granular urea while those in the US expressed concerns regarding weak corn prices. These factors did not prevent price increases entirely, but instead steadied the market. Reflecting this, Profercy's World Nitrogen Index (charted below) increased by a modest 1.38 points.
Market pauses, but supply issues remain
The slow down in urea markets should not be a cause for optimism for buyers in major import markets as Q4 approaches. Our latest forecast, published on 3 September, indicated that market fundamentals offer little scope for a major urea price correction.
In short, supply remains a major issue. A case in point is Egypt.  Observers in Europe will note the latest price increase of $10pt for Egyptian granular urea given that Egypt has traditionally been a significant source of product during peak import periods. However, with limited gas supplies impacting urea and ammonia production, as well as the need to serve the domestic fertilizer market, it is clear that Egyptian product will play a less significant role in Q4.
For further information on our nitrogen market forecasts reports, please contact us regarding the Profercy Nitrogen Service.
Gulf between ammonia and urea prices widens
The price differential between ammonia and urea was touched on back in April (here). Naturally, a strong price correlation exists between the two products in the long term with the majority of ammonia produced upgraded to other fertilizer products, including urea.  However, for the second time this year Yuzhnyy ammonia prices are a massive $200pt greater than those for Yuzhnyy prilled urea. A similar gulf exists for Middle East ammonia and granular urea.
Ammonia markets are heavily influenced by supply-side factors and the latest tightness is a consequence of widespread production and export cutbacks, including those in Ukraine. Traders have had to move quickly to secure product for October and supported a $30pt gain in Middle East prices last week. The latest increases will be of concern to all those exposed to global ammonia prices, including the Tampa cfr price due to be agreed later this month.
[tabs][tab title="Profercy Nitrogen Index – 2012 Onwards"]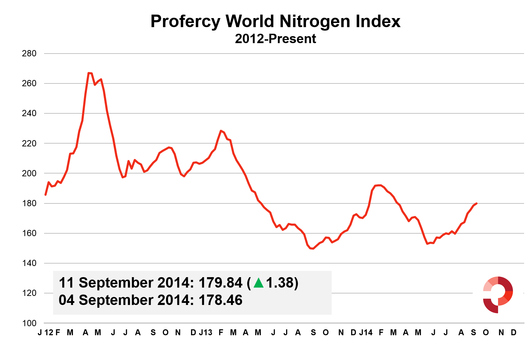 [/tab][tab title="Profercy Nitrogen Index – 2009 Onwards"]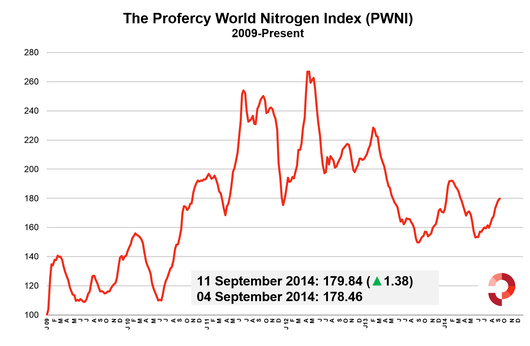 [/tab][/tabs]
---
Profercy World Nitrogen Index: Methodology
The Profercy World Nitrogen Index is published every week and is based on price ranges provided by the Profercy Nitrogen Service. This includes prilled and granular urea, UAN, AN, ammonium sulphate and ammonia. A full methodology can be found here.
Free Trials of the Profercy Nitrogen Service
Profercy's Nitrogen Service includes daily news, weekly analysis and monthly forecast reports. For more detailed information on specific products and individual markets, please sign up for a free trial or for more information on the Profercy Nitrogen Service, please click here.