Market expects up to 1m. tonnes to be booked for shipment into January
Indian April-October imports significantly down on same period last year
Latest tender is the last chance for Chinese producers to commit large volumes for some time
IPL will tomorrow hold a major purchasing tender to secure more urea fertilizer for India's rabi season. Indian farmers consume around 30m. tonnes of urea each year, with over 8m. tonnes of this imported. However, while April to October sales are down on the same period last year by around 1m. tonnes, imports are down by around 1.8m. tonnes. Indeed, local media reports in India have highlighted shortages of urea in a number of states.
As the largest single exporter of urea in the global market, Chinese prilled urea has dominated Indian tenders in recent years. Chinese fob prices have not changed significantly since the last Indian tender in October, despite the low export tax window for Chinese product closing at the end of October. Product in bonded store (avoiding the high tax) has been able to sell in large volumes into Pakistan and Bangladesh. Yet, Chinese producers have not been able to increase fob prices.
As noted in last week's Profercy Nitrogen Report, the challenge for China is that tomorrow's tender is likely to be the last major international selling opportunity for their product. Producers passing up the chance to sell will be faced with carrying more stock for the domestic market spring campaign.
A further complication ahead of the tender is the anticipation of a new export tax policy for China in 2015. China has in recent years favoured the use of high and low tax periods with the aim of protecting domestic prices during periods of high domestic demand. Yet, the market currently expects a flat tax for 2015. With the latest Indian tender allowing shipment 12 days into the New Year, this could have a bearing on the volumes available to India.
India offers hope for East, but not West
With India's urea import programme almost exclusively concentrated on Chinese prilled urea, the outcome of the tender is expected to have a limited impact on global markets. Beyond the East, prices have been moving in a narrow range for some time, although granular prices in Egypt and prilled prices in Yuzhnyy have come under pressure in recent weeks.
With granular prices in Egypt falling over a period of sales tenders last month, and with FSU product selling at lower prices, Profercy's World Nitrogen Index dropped 4.90 points in November. There is little optimism in the market as the year draws to a close and as Q1 approaches. Profercy's next detailed Nitrogen Market Forecast is due out this week. For a copy, please register for a free trial of the Profercy Nitrogen Service.
The Nitrogen Index and the brief analysis above draws on the prices and insight provided in the Weekly Profercy Nitrogen Report, published through the Profercy Nitrogen Service. For more information and a free trial, please click here and provide your details.  The Service includes, daily news and updates, comprehensive weekly analysis and prices, as well as monthly price forecast reports.
[tabs] [tab title="Profercy Nitrogen Index – Year to date"]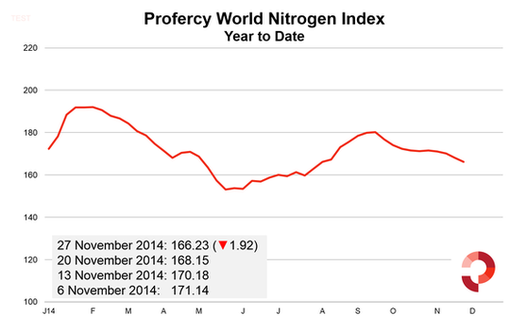 [/tab] [tab title="Profercy Nitrogen Index – 2012 Onwards"]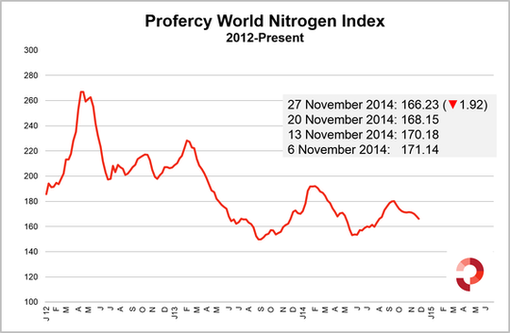 [/tab][/tabs]
---
Free Trials of the Profercy Nitrogen Service
Profercy's Nitrogen Service includes daily news, weekly analysis and monthly forecast reports. For more detailed information on specific products and individual markets, please sign up for a free trial or for more information on the Profercy Nitrogen Service, please click here.
Profercy World Nitrogen Index: Methodology
The Profercy World Nitrogen Index is published every week and is based on price ranges provided by the Profercy Nitrogen Service. This includes prilled and granular urea, UAN, AN, ammonium sulphate and ammonia. A full methodology can be found here.