From the 9th July 2015 Profercy Nitrogen Weekly Report: "As expected, there have been no real positives for urea suppliers over the past week. Prices continue to chart a downward path in the absence of major buying interest from any of the key markets worldwide."
It has been a tough few weeks for global urea suppliers. Granular urea values have fallen in a number of key markets, most notably the US Gulf, where prompt urea barges no longer attract a $60ps ton premium on deferred product. Barge values in Nola are now comfortably below $300ps ton, well below the mid-June peak of $380ps ton. While upriver barges were still attracting a premium last week, it is clear that there is a lack of conviction in the US market – something that is evident in all other key markets – with buyers anticipating lower values as Q3 progresses.
With returns for Middle East cargoes to the US waning, Profercy's price quote for Arab Gulf granular urea has fallen significantly in the last two weeks. With urea representing over 60% of nitrogen trade, and with Middle East urea values a key market barometer, this had led to a 13 point drop in the Nitrogen Index in the last month. Indeed, the Index lost over 5 points last week and is only 2.69 points above the mid-April low of 137.55 (as charted below).
Where next for global urea values? Profercy's end-June forecast report highlighted that surpluses were expected to build throughout Q3. Major supply additions will be seen in North America, North Africa and the Middle East at a time when demand is slow in key import markets. A significant anomaly at present is the high level of offers for Chinese prilled and granular urea. This is generally valued more than $10pt lower than Middle East granular urea. However, for the second time this year, Chinese producers are holding values up to $10pt above product from the Arab Gulf.
For our full weekly market analysis, including key prices and details of latest trades, bids and offers,  please provide your details here.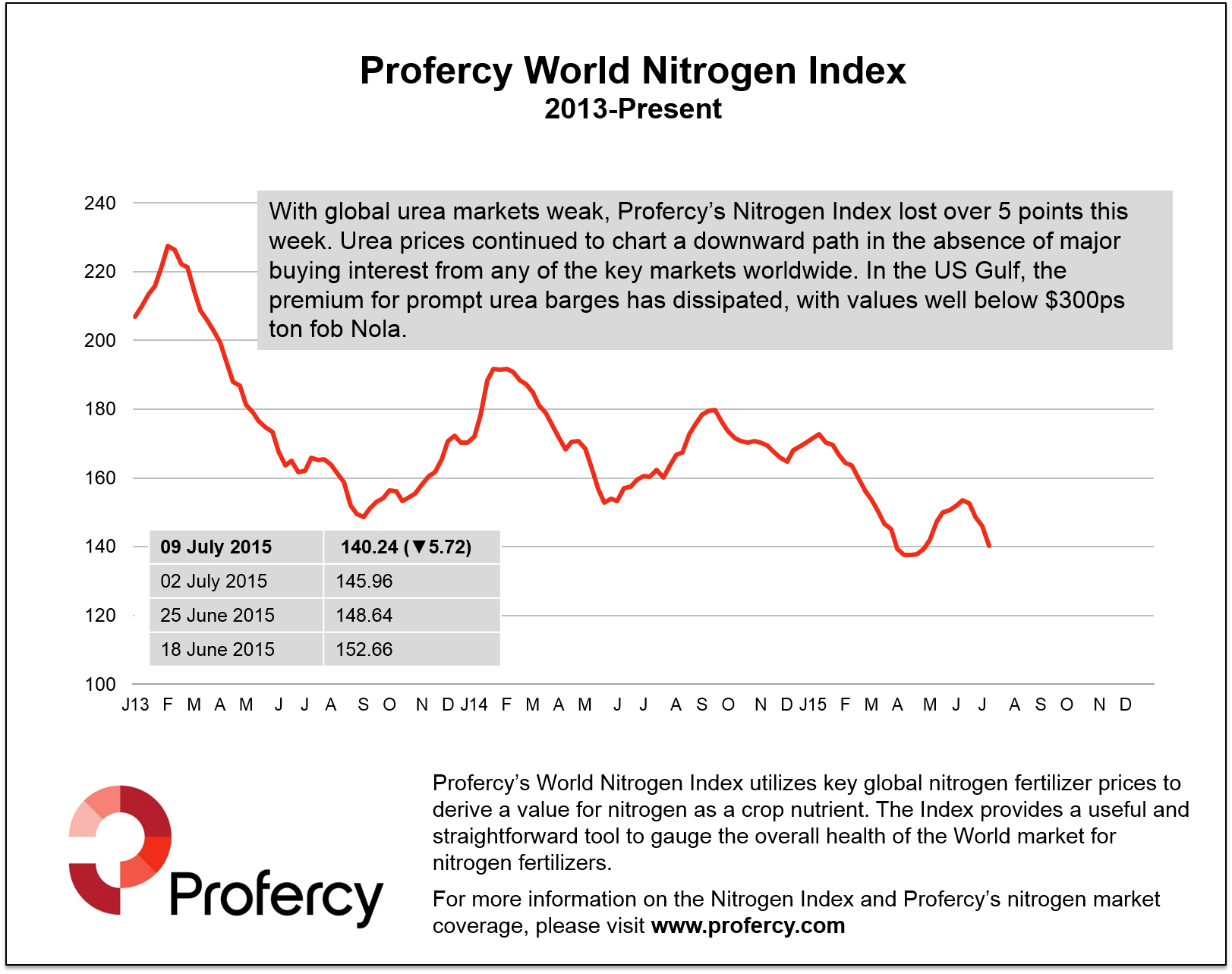 ---
Free Trials of the Profercy Nitrogen Service
Profercy's Nitrogen Service includes daily news, weekly analysis and monthly forecast reports. For more detailed information on specific products and individual markets, please sign up for a free trial or for more information on the Profercy Nitrogen Service, please click here.
Profercy World Nitrogen Index: Methodology
The Profercy World Nitrogen Index is published every week and is based on price ranges provided by the Profercy Nitrogen Service. This includes prilled and granular urea, UAN, AN, ammonium sulphate and ammonia. A full methodology can be found here.