2016 has been a bad year for urea producers. Most major export points have witnessed a 27-28% price reduction on 2015. For example, the average price for Middle East granular urea has been $206pt fob, down $75 on 2015. This compares with a drop of 18% for oil.
The position for urea could have been much worse had China been able or willing to export the same volume as in 2015. This year shipments have fallen from close to 14m. tonnes to an estimated 8.5m. tonnes, offsetting much of the impact of new production from Egypt, Algeria, Iran, the USA and the FSU.
The main squeeze has been on Chinese prilled urea which has lost its number one position as the main supply source for India. Chinese prilled prices have averaged $209pt fob this year which, while down from $273pt fob in 2015, is a reduction of just 18%, two thirds of the cut endured by other suppliers. It compares with a 27% fall in Black Sea prilled prices from $273pt fob to $198pt fob. Clearly, Chinese prilled urea is no longer the price leader.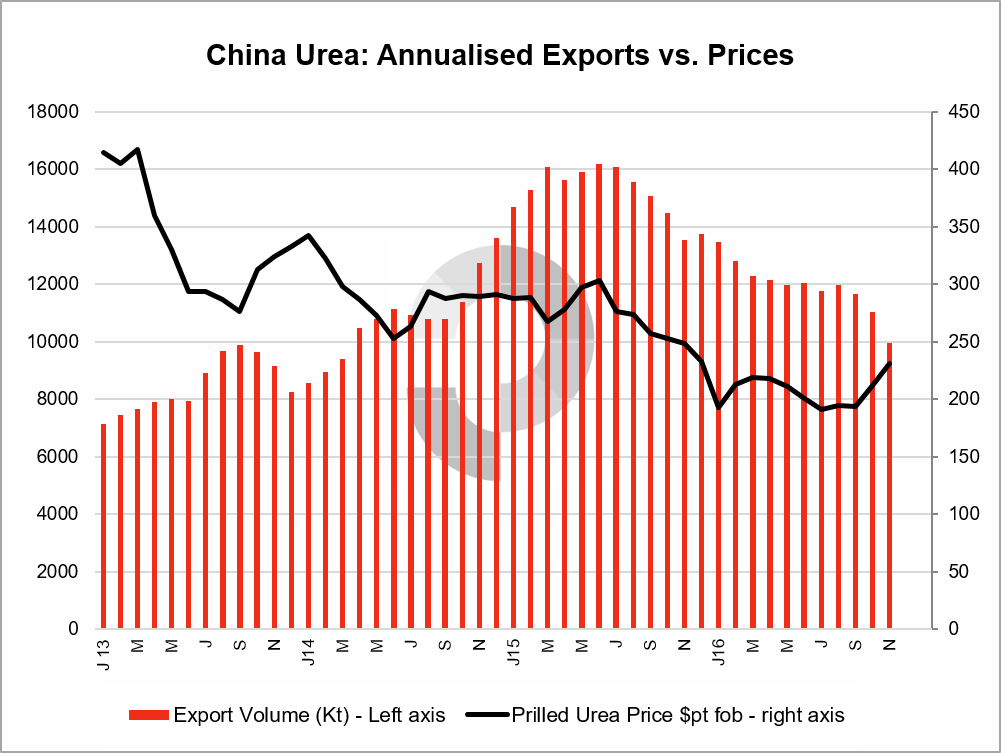 Looking to 2017, cost pressure on Chinese industry should ease in Q2 as the coal position improves. However, it would take very low coal prices indeed to enable China to rebuild its production and exports to what the market has become used to in recent years.
The low point for Chinese prices this year was around $185pt fob. In 2017 producers may well adapt their production strategies to ensure that damaging levels below $200pt fob do not become the norm. For this and other reasons (the Chinese market could be short for spring) 2017 exports are again likely to be significantly down on 2016. A further drop to 5-5.5m. tonnes looks possible. As in 2016, the reduction will likely be concentrated on the prilled side which will open increased welcome opportunities in Asia for other exporters, particularly after the main shipping period for the USA and Europe are over (Q2/Q3).
---
Free Trials of the Profercy Nitrogen Service
Profercy's Nitrogen Service includes daily news, weekly analysis and monthly forecast reports. For more detailed information on specific products and individual markets, please sign up for a free trial or for more information on the Profercy Nitrogen Service, please click here.