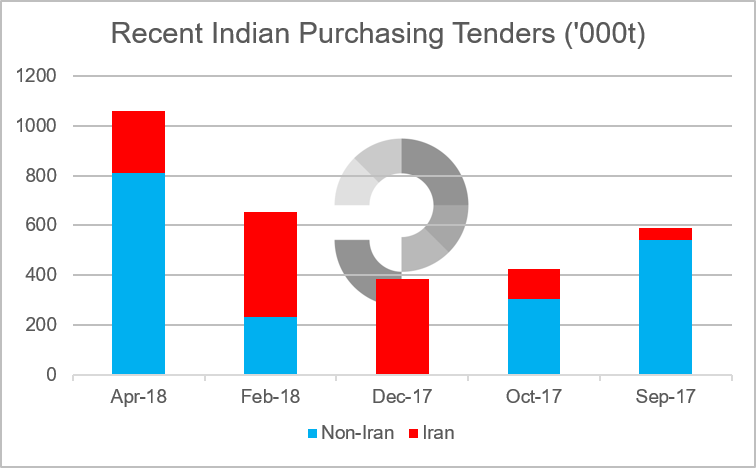 Iranian export volumes to remain largely unaffected
Iranian producers to become more reliant on India and China
Much has been made of the likely impact of renewed US sanctions on Iran but despite creating additional obstacles, they are unlikely to have a significant impact on urea trade flows.
Even following the original agreement, efforts to extend the markets for Iranian product have been thwarted by the unwillingness of banks and importers with US business links to take on the risk of dealing with Iranian product amid the political uncertainty.
Business as usual in India?
The main market for Iranian urea both prior to the nuclear deal and since has been India.
In the two tenders this year Indian has booked 1.7m. tonnes of urea, 700,000t from Iran. Over the last five tenders, Iran has supplied nearly 40% of India's 3.1m. tonnes in imports.
By comparison, during January-April 2018, Iran exported 450,000t to other destinations. Based on the recent export volumes of 3m. tonnes/year, sales to India account for well over half of total exports.
India's flexibility around product procurement, including paying in local currencies as opposed to US dollars, allowed it to operate outside of the scope of sanctions even before the original deal.
China as a potential outlet for Iranian urea
The original sanctions on Iran successfully deterred US and European entities, however, in addition to India, they did little to sway Chinese decision making.
Since December 2017, China has become a key destination with 250,000t of Iranian urea imported. Much of this product has been re-exported.
Given the possibility of tighter restrictions in the West, this trade route could be amplified with Iranian product either directly reexported, mixed with Chinese product and exported or consumed in the domestic Chinese market with the locally produced product exported instead.
As such, even those likely to be put off dealing with Iran – such as South Korea and other Asian markets – could end up inadvertently alleviating supply pressure on Iran by importing from China.
There is talk of an ongoing tightening of sanctions by the US and though this is highly feasible, it is unlikely to involve action against China.
Therefore, the sanctions are unlikely to reduce the actual export volumes out of Iran and, as such, will not impact the wider supply and demand balance. However, the sanctions are likely to reduce the returns for Iranian producers as they will be forced to incur the additional costs, including the extra freight, and offer product at lower prices.
---
Authors: Michael Samueli, Clive Yearsley. To contact the authors, please use the Contact Us section.