Iranian producers concerned US sanctions will block future sales to India
50,000t of granular urea committed to China in the low-$230s pt fob, latest sales $20-25pt below prices achieved in India early-August
Iranian fob levels $60pt below Middle East prices as international urea markets remain firm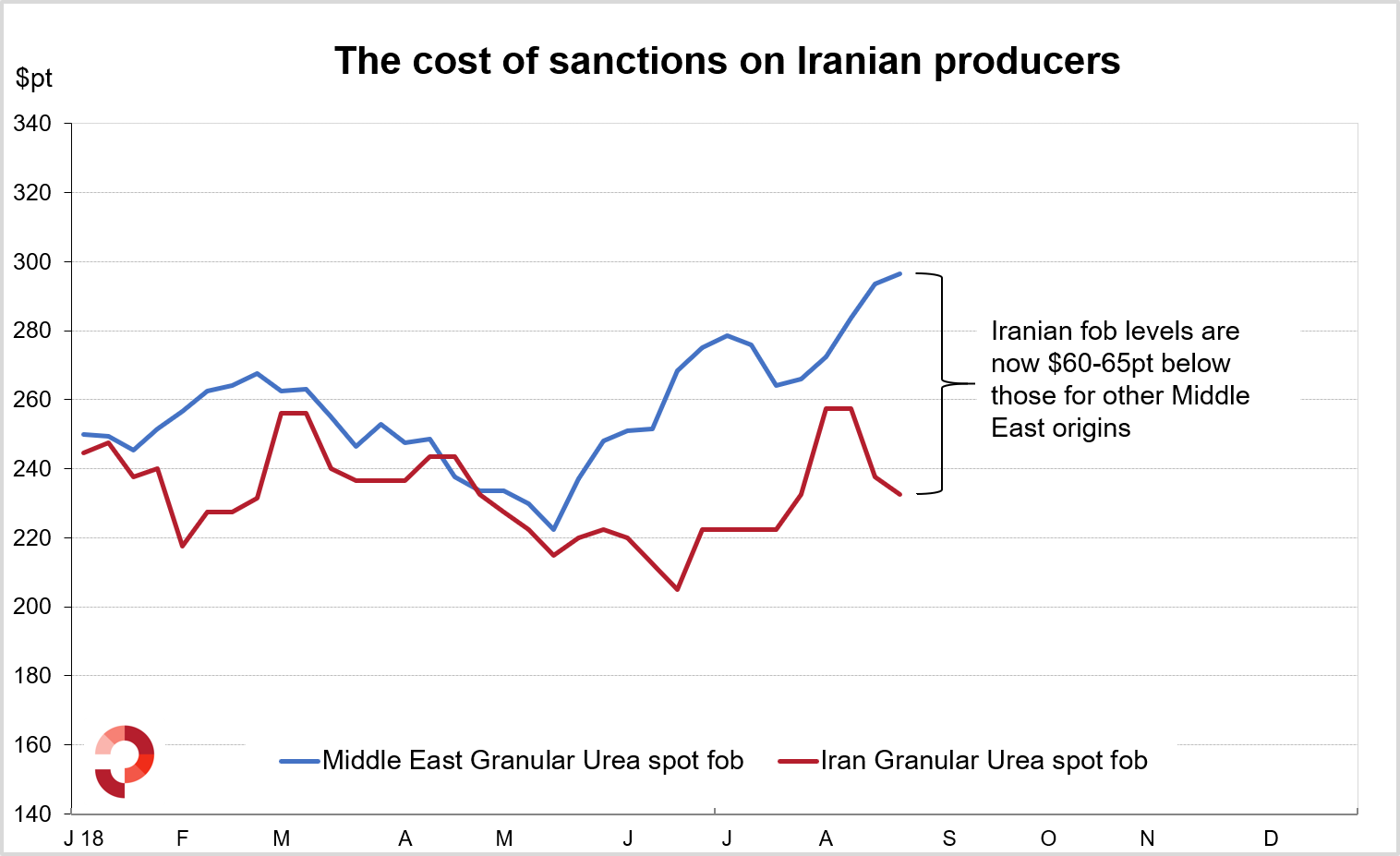 At least one producer has committed granular urea to China this week amidst concerns that US sanctions will block future sales to India. 50,000t were sold for October delivery to China in the low-$230s pt fob with discussions taking place this week for end September/October shipments to SE Asian markets. Buying interest has also been reported for Latin America, although no business concluded.
The latest sales are well below the $255-260pt fob returns in the last major Indian purchasing tender. At the tender, MMTC secured 712,000t of urea for shipment by 17 September with at least 660,000t of urea committed directly from Iran.
However, there are several reports that Iranian suppliers have yet to receive payment for shipments. This has compounded concerns that participation in future Indian tenders will be difficult due to the impact of pending US sanctions. Away from India, China has been a major market for Iranian granular urea with multiple cargoes booked this year for the domestic market and re-export.
The latest sales of Iranian product highlight the impact of sanctions. While Iranian fob levels have fallen by more than $20pt since the MMTC tender, other Middle East suppliers have registered major price gains in the past two-three weeks. Indeed, latest sales of Middle East product reported by Profercy have been concluded at $295pt fob and above, over $30pt above netbacks from India under the last tender.
Sanctions also present a major difficulty for India. While domestic production has increased in recent years, India still imports major volumes to fulfil domestic demand. Of the 4.2m. tonnes imported via tender since August last year, Iran has supplied 56% of the material. Iran's absence would naturally increase India's reliance on other origins and inevitably lead to higher cfr levels.
By Chris Yearsley, Director, Profercy Nitrogen