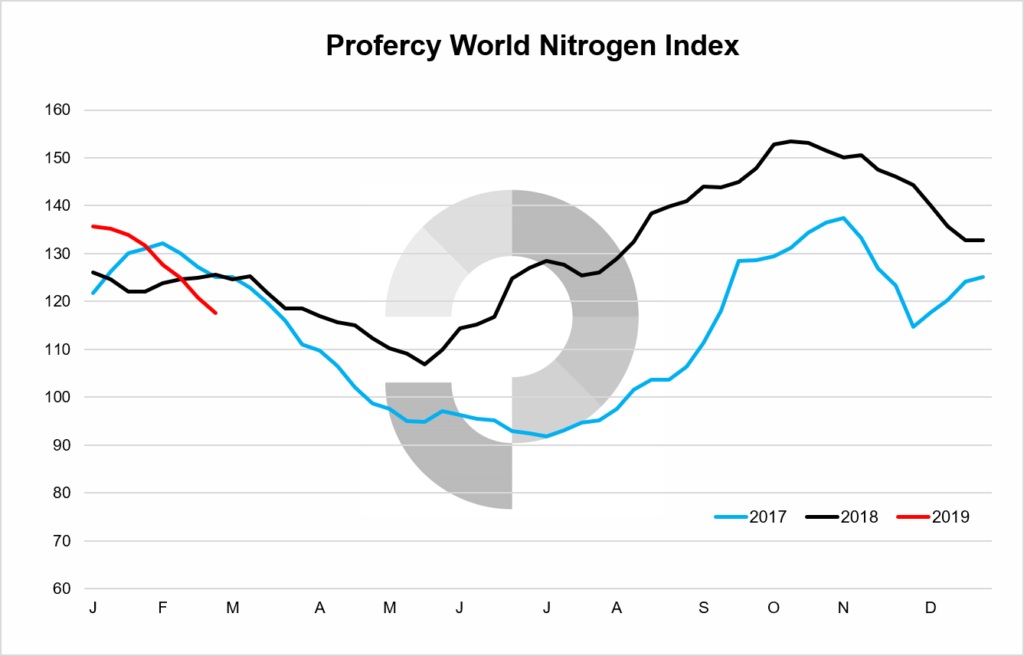 Global urea prices continue to decline at a faster pace than in the previous two years with little sign of a change in direction.
The Profercy World Nitrogen Index declined for the seventh consecutive week in a row, down 3.14 points week on week and a combined 18.04 points to 117.61 points, a near nine-month low. The Index is 7.91 points lower year on year. The Index utilizes the key global nitrogen prices quoted by Profercy to derive a value for nitrogen as a crop nutrient.
US Gulf markets fell by another $6ps ton to bring the cfr metric price to below $250pt. Poor weather across most of the corn belt has dampened any hopes of an early spring. The US remains liquid by comparison to other markets but only at lower prices.
In addition, data from India this week implies the Department of Fertilizers is under no immediate pressure to import with the last two tenders enough to cover demand into Q2. MMTC booked 1.83m. tonnes in November 2018 for shipment in 2019, with a further 515,000t booked via a mid-January tender. Only political considerations, with elections due soon, could realistically alter the scenario.
There were some modest positives this week. Egypt sold as much as 100,000t, albeit having to reduce prices to do so. March is now heavily committed with much of the buying covering of short positions in Europe.
With Egypt mostly out, any demand for Europe will be limited to supply from the Baltic and Algeria, potentially affording some support to these markets.
Fundamentally however, demand remains weak among the major buying regions. Despite the sharp price declines leading some to question the longevity of the current bearish downtrend, there appear to be no supportive factors for a significant uptick in prices.
By Michael Samueli, Nitrogen Market Analyst