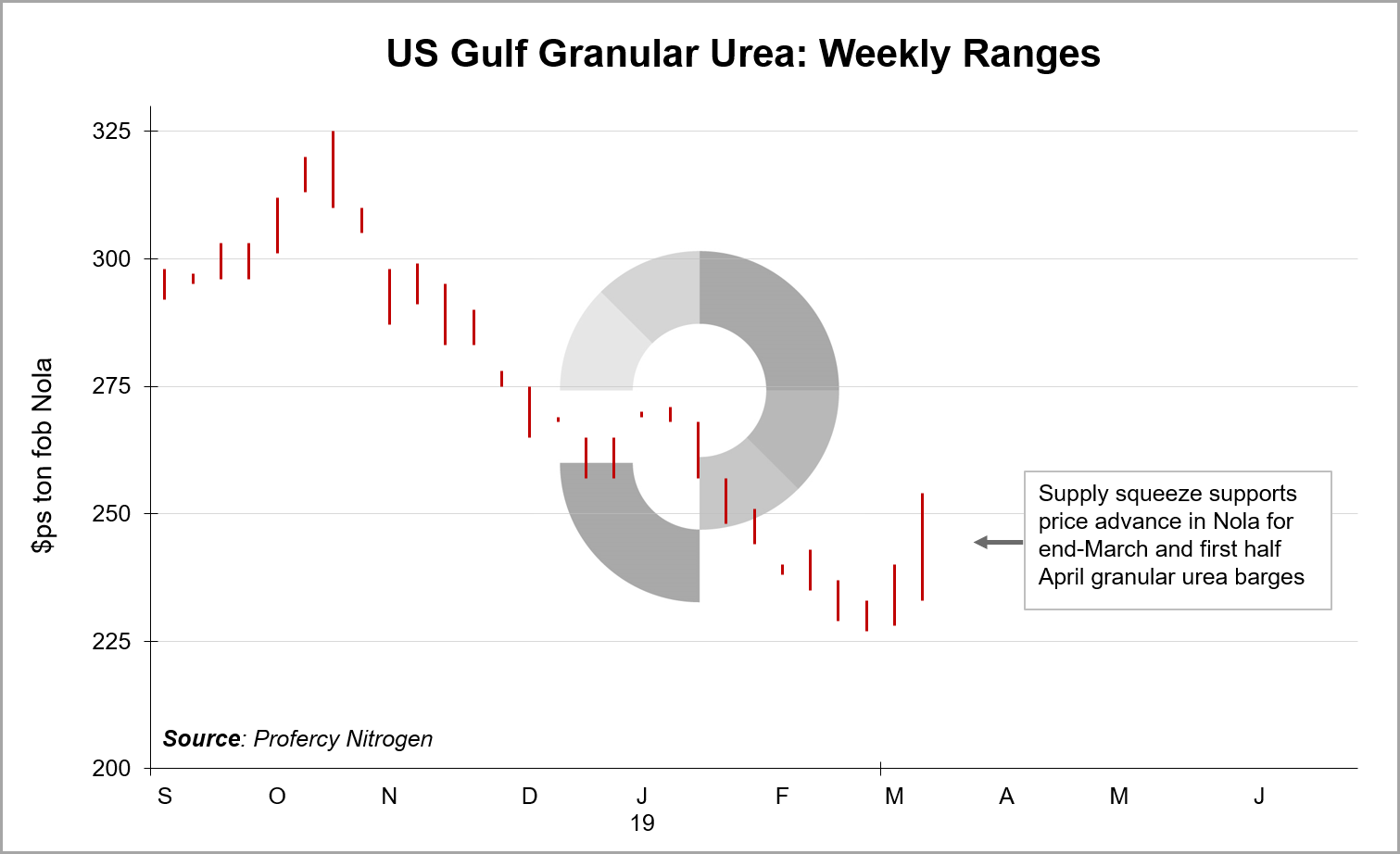 Advancing near-term values in the US Gulf and Brazil have lent some support to urea values this week. While several remain pessimistic regarding the global market's prospects for Q2, recent improved values in these two key western markets have aided producers in holding fob prices in the west.
Last week, Profercy noted a steep backwardation in the US Gulf urea markets with logistical problems causing a shortfall in available supply for prompt dates. The high water levels continue to limit barge availability as tugs are only able to navigate smaller groupings of barges along the Mississippi River and at slower speeds.
The continuation of this dynamic resulted in a flattening of the backwardation this week. April values have risen largely in line with prices for prompt and second half March barges. And despite the sharp price uptick of up to $20ps ton, distributors remain unwilling to profit take or trade recently bought barges.
A major consideration for distributors is positioning product in time at the terminals for spring demand, bearing in mind the slower movement of product from Nola. Several are warning of potential bottlenecks when demand emerges, raising the prospect of widening price differentials between terminal/inland points and Nola.
Beyond the US, Brazilian prices have also registered increases this week, albeit from a low base. Buyers began to see value at $250pt cfr for April shipments. In addition, the import line up for March and April is looking limited with some estimating that only 150,000t of urea will be shipped between the two months. Buyers in Brazil will be acutely aware that highest value Nola barge trades this week reflect almost $15pt better value for suppliers than the Brazilian market.
The seemingly changing outlooks for Brazil and the US have led to some moderate optimism among producers. In Egypt, sales were largely in line with last week and though declines were noted in other fob markets such as the Baltic, overall the market has been stable.
Indeed, the Profercy World Nitrogen Index (charted below) remains below 2017 and 2018 levels for mid-March. Once considering that the Index opened 2019 above the previous two years, then the rate of the declines, especially in February, appear unsustainable. Week on week, the Index declined by a more modest 0.80 points to 116.30 points.
By Michael Samueli, Nitrogen Market Reporter
E: Michael.Samueli@profercy.com