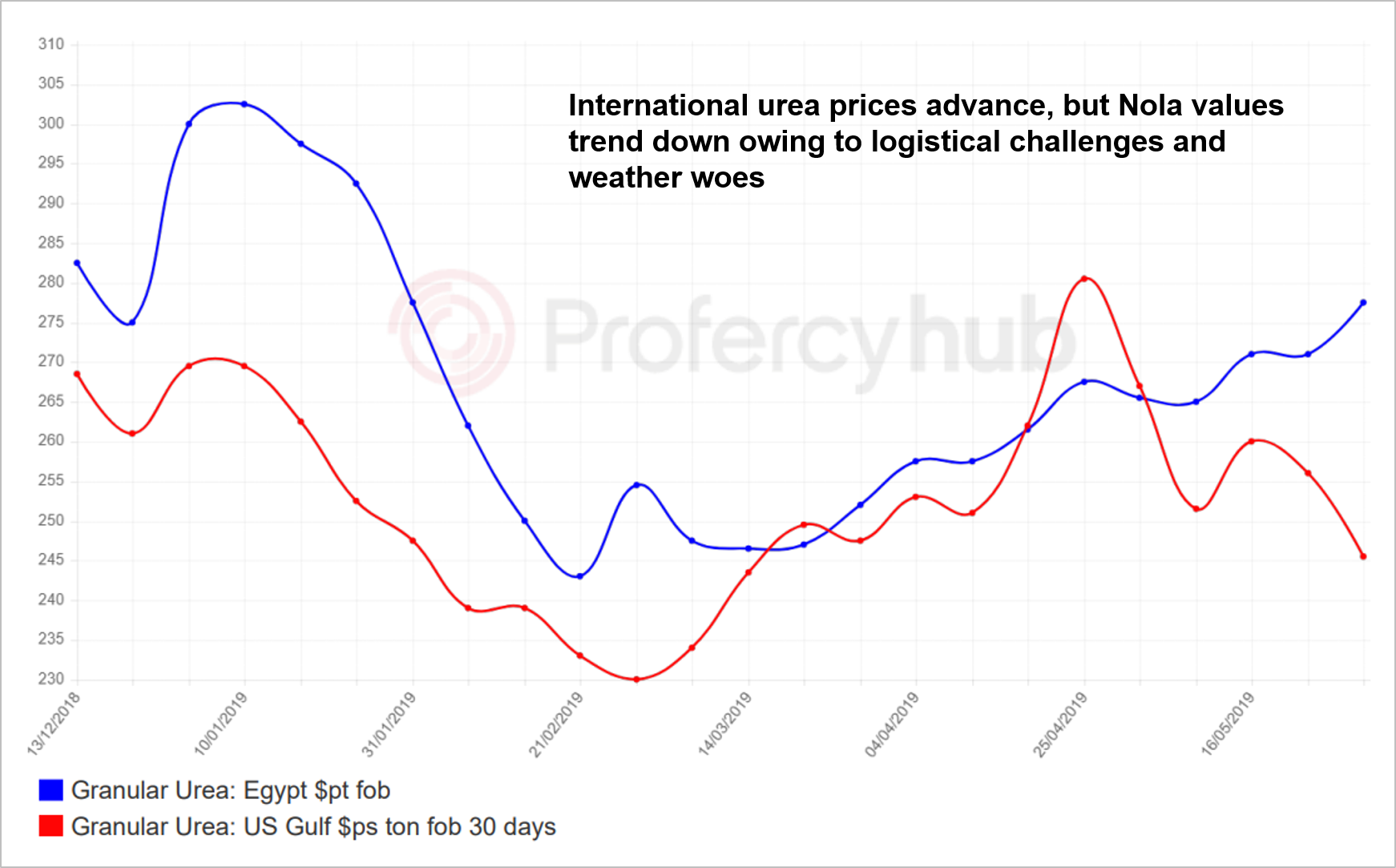 The fertilizer industry will descend next week on Montreal, Canada, for the annual IFA Conference. Urea prices have advanced through Q2 and urea producers are optimistic heading into the conference with June production largely committed.
Middle East granular urea prices are now established at $280pt fob and above, having gained over 20% since the end of March when spot values were in the $230s pt fob. Similarly, Egyptian granular urea producers have achieved $280pt fob in recent weeks, with spot prices around $30pt above those at the end of Q1.
On the supply side, the global urea market has been supported by the continuation of US sanctions against Iran. Product from Iran has been blocked from several markets for some time, but crucially is now largely blocked from Indian business, forcing producers to focus on other markets, including Turkey and Brazil. India has therefore retained its status as a premium market. Owing to firm domestic demand in Q1 and early Q2, China's absence from the international market has also limited competition in the east, as well as Latin America.
Against this backdrop, demand has improved with the market less reliant on Europe and the US in Q2 than the preceding quarter. Demand from India and Pakistan has provided a valuable outlet to producers in the Middle East and Egypt with the former booking 740,000t in the May tender for shipments to June 24. At the same time, demand from key contract markets, including Australia and Thailand has been healthy, bolstered by better weather conditions than last year.
In the West, demand has been buoyant in Mexico, Chile, Uruguay and Argentina with this expected to continue. Late season demand in Europe coupled with latest moves for Q3 refill have also kept spot values high for lots ex-North Africa.
This demand has limited producers' exposure to the US where the spring season has faced delayed planting due to unprecedented poor weather. Indeed, as of 2 June planting was just 67% against a 5-year average of 96%. Flooding and high waters have also caused logistical chaos and seen Nola barge values trend down to the low-$240s ps ton.
With June largely committed at the producer level, there is reason for optimism amongst urea suppliers ahead of Q3. India is expected to return to the market shortly. Weather woes in the US are set to benefit grain producers elsewhere with this likely to bolster fertilizer demand in Central America for granular and prilled urea. This at a time when Brazilian demand should begin to ramp up. While Brazil is set to receive up to 1m. tonnes of Iranian urea this season, the 5m. tonnes plus import market will require urea from traditional outlets as well. Turnarounds in North Africa are also likely to limit availability in Q3.
By Chris Yearsley, Director, Profercy Nitrogen
All prices basis Profercy Nitrogen Weekly Report