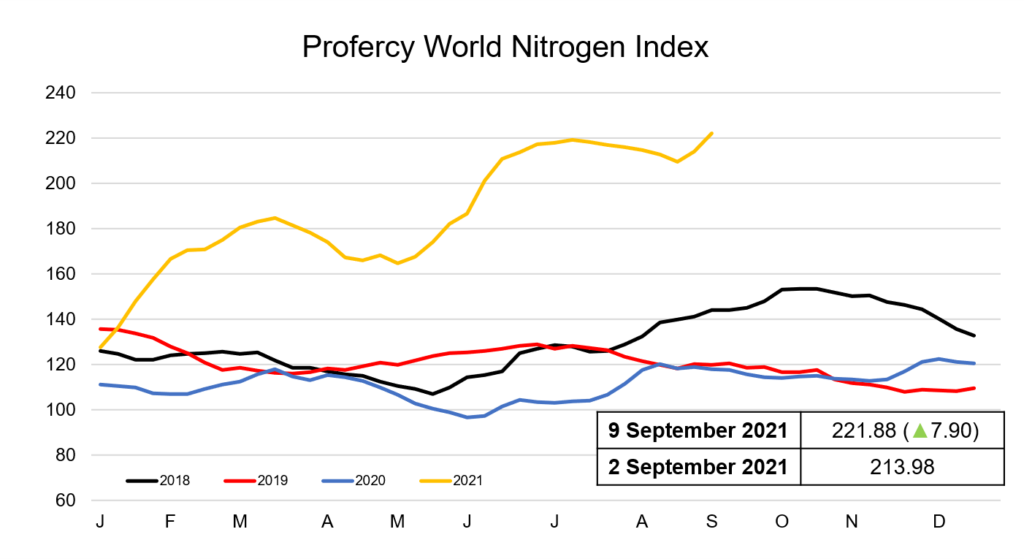 The Profercy World Nitrogen Index (PWNI) gained 7.90 points this week to 221.88 as urea values surged in the US Gulf following the September supply crunch. The PWNI is now at the highest point seen so far this year and at levels last reached in January 2013.
In the US Gulf, with production outages and logistical issues continuing to be felt in the aftermath of Hurricane Ida, the already tight supply situation has been exacerbated further. Indeed, late last week CF Industries issued a force majeure notice on its Donaldsonville nitrogen complex. The producer halted production just before the hurricane hit land, however, the storm disrupted the power to the plant.
Those with September barges in hand have been unwilling to offer, leading buyers that are seeking prompt material being forced to pay a premium. Bids rapidly increased throughout the week before trading at $552ps ton fob Nola on Thursday, the highest level seen trading in the region since May 2012, and a $57ps ton increase from a September deal that took place a week earlier.
CF Industries announced late on 9 September that it has begun restarting its ammonia plants at Donaldsonville. Start-up of other units including urea and UAN will follow, however, the producer informs that shipping will be proceeding on an as available basis.
With import demand apparent in the US, traders moved quickly to secure Algerian cargoes for potential shipment west. Three cargoes were sold from the region this week, at $20-30pt above last done levels.
Egyptian producers also took advantage of the turnaround in the market with around 145,000t of granular urea, along with 20,000t of prills, sold over the last week. Sales prices late last week were reported at $460-462pt fob, but advanced to $470pt fob by the start of the week.
Markets in the east have remained relatively inactive in comparison, with participants continuing to await the announcement from India regarding a fresh purchasing tender. With issues around funding reportedly causing further delays, the country is now increasingly likely to need to secure greater volumes of urea in a shorter period of time to make up for its deficit.
By Neha Popat, Nitrogen Market Reporter