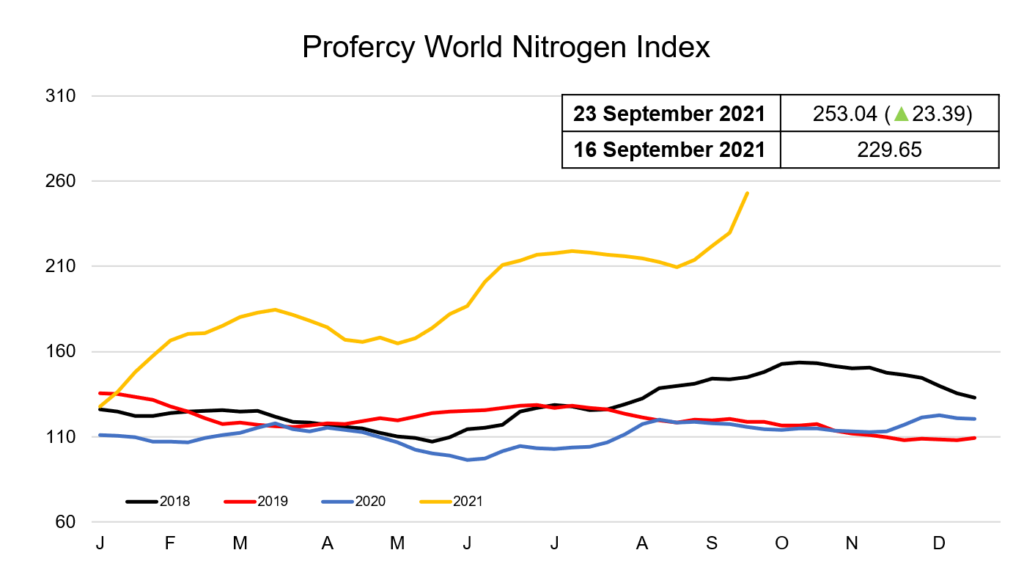 With the surge in global urea values showing no sign of letting up, the Profercy World Nitrogen Index has made its biggest weekly increase on record, climbing by 23.39 points and hitting a new high of 253.04, levels that were last seen in May 2012.
After remaining relatively stable during the past couple of weeks, urea values in the east have now started to catch up with those in the west. In Southeast Asia, around 180,000t of granular urea was sold for October and November shipment, with latest business taking place from Malaysia around $530pt fob, almost $100pt higher than last done business that took place from the region earlier this month.
The announcement of the long-awaited purchasing tender also came from India this week. The tender is set to close on 1 October, and having missed out entirely on September shipments, the world's largest urea importer is in need of big volumes for arrival by early next year.
Although India is usually heavily reliant on Chinese exports, China's role as a major supplier in the export market remains uncertain in Q4. With production rates at low levels, domestic prices have increased significantly of late and authorities there have been stepping up efforts to discourage major exports from the country. Furthermore, new rules requiring quality inspections for exports of urea and other fertilizers, have resulted in many suppliers withdrawing export offers this week.
The lack of Chinese urea in the export market has resulted in more interest in Middle Eastern product, with offers there also moving significantly higher this week.
In the west, production cutbacks in Europe owing to high gas prices and the ongoing uncertainty over future supplies continues to push fertilizer prices ever higher.
With demand from traders for shipments to Europe soaring, Egyptian urea producers have once again been concluding business at higher levels. Latest business there hit $600pt fob for November shipment, an increase of over $160pt fob from just three weeks ago.
While in the US Gulf, the market continues to feel the impact from earlier domestic shutdowns and low inventories. Some vessels that were due to unload in September/October have since had to divert due to ongoing delays faced with unloading in port. With the nearby supply squeeze being felt even further this week, buyers in search of prompt material have once again had to pay the premium.
Deferred values have also significantly picked up. Late this week an October barge traded at $600ps ton fob Nola, a $30ps ton increase on last done October business that took place earlier, and a metric equivalent of $656pt cfr. This is the highest Nola barge price seen since May 2012.
Meanwhile, European gas prices, the trigger for the nitrogen fertilizer price increases, continue to be at very high levels. Producers across Europe are facing production cutbacks and operating losses without further sharp price increases. Several major factories including CF Industries in the UK, and OPZ in Ukraine have already shut. CF received state support from the UK government to restart production at one plant for three weeks. The restart did little to slow demand or price increases.
This latest rally in the nitrogen market is yet to show any signs of slowing down.
By Neha Popat, Nitrogen Market Reporter