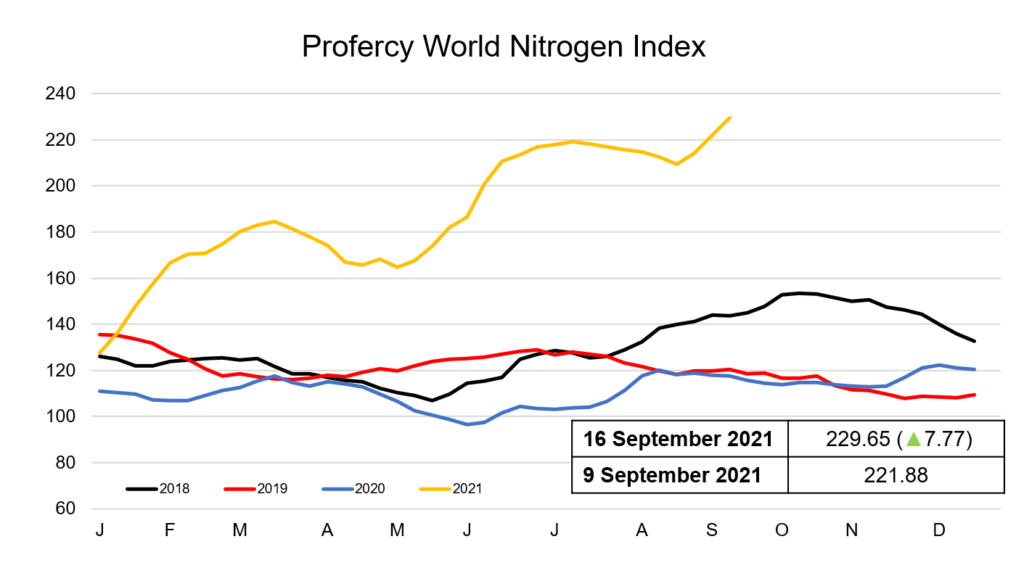 With urea values already firm in the west, the situation has escalated further this week owing to the rapid ascent in spot gas prices in Europe. Ukrainian producers are now being forced to consider cutting back, or shut down operations altogether. Nitrogen production in other European locations is also considered under threat. CF Industries in the UK halted production this week, the first to do so. Yara has now followed, confirming this morning that it will scale back ammonia production by 40% by next week owing to high gas prices and planned operational works.
As a result, Egyptian granular urea producers have successfully lifted fob values by $50-60pt on last week, with traders now left with no choice but to pay higher prices to secure product for shipment to Europe. Latest granular urea sales have taken place at $520pt fob this week, levels that were last seen from the region in May 2012. Cargoes have also been sold from Algeria this week at higher levels.
In the US Gulf, the after effects of Hurricane Ida continue to be felt. While CF Industries announced that it had begun restarting its ammonia plants at the Donaldsonville Complex in Louisiana, the restart of the urea unit and the clear up of the barge logistics is not expected to happen in time to alleviate the tightness currently being felt in the market.
Prompt/September barge values fell from the highs reached last week to trade at $515ps ton fob Nola. However, bids recovered as the week progressed and September barges went on to trade at $550ps ton fob Nola on Thursday. With supply in the US also incredibly limited, deferred values also picked up this week with latest November sales taking place late this week almost $40ps ton higher than last done a few days earlier. Significantly, Nola values represent over $500pt fob Algeria and have been at a premium to Brazil, which is entering its peak import period.
Eastern markets were inactive for most of the week. However, in the limited business that took place, November shipments were committed from the Middle East around $35pt above last done. Participants in the urea market continue to await an announcement from India regarding a fresh import tender, with reports suggesting this could be next week. The world's largest urea importer will now have no choice but to scramble for tonnes in October during a time when supply is already tight and demand is set to be stronger in the west. Supply from China will be critical for India.
The Profercy World Nitrogen Index (PWNI) gained 7.77 points to 229.65 this week. It has now climbed around 20 points over the last 3 weeks.
By Neha Popat, Nitrogen Market Reporter