Nola urea barge values have rallied this week and hit a 9 year high, with buyers scrambling for nearby barges in the aftermath of Hurricane Ida.
With some producers scheduling maintenance turnarounds in May, and cutbacks seen to domestic production earlier in the year, supply of nearby barges was already considered limited in the region. The situation has now been exacerbated by the impact on production and logistical challenges in the aftermath of Hurricane Ida.
Distributors and traders reported issues locating barges after this week's weather events. The largest fertilizer plant in the region, CF Industries' Donaldsonville facility, was forced to shut down. While reports suggest there has been no major damage to the plant, it is now facing delays restarting with power yet to be restored. Several reports also suggest that CF was checking the market for barges this week. Prior to the Hurricane making landfall the plant was reportedly focused on UAN production, with CF an active buyer in the urea market in recent weeks.
As a result of the latest escalation in barge values the US is now the premium market in the west, a rare occurrence in what is currently the US offseason. This has inevitably led some international traders and distributors to assess the possibility of diverting vessels that were previously lined up for other destinations.
Indeed, discussions have been taking place regarding September shipments from North Africa to the US Gulf. Latest business in Algeria has taken place at $460pt fob, although traders are believed to have positions are lower levels. However, with the current delays faced in Nola, most available shipments in Egypt, the Arab Gulf and further afield are unlikely to be able to discharge ahead of river close in mid-October. Only Algerian, Nigerian, and potentially Baltic product is able to arrive to the US Gulf ahead of river close.
Efforts to bring in vessels have also been hampered by an absence of available barges. This is typically the case every year as demand for barges carrying salt inland ahead of the winter spikes during September and first half October.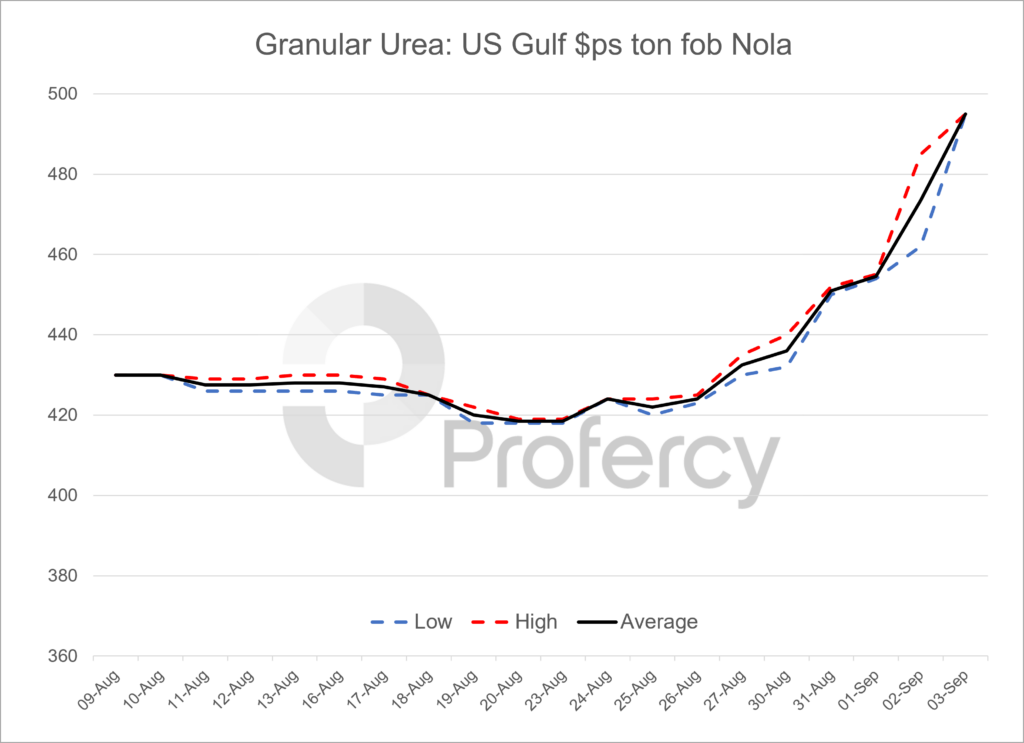 As a consequence, distributors have been willing to pay a premium to secure product. September barge prices ramped up by around $60ps ton from late last week. Trades took place earlier this week at lower levels, however, as the extent of the impact from the Hurricane became clear, offers became scarce. The few suppliers with September availability opted to keep hold of volumes rather than sell them on. September bids continued to increase and eventually a deal was concluded at $495ps ton fob Nola, $540pt cfr metric equivalent, the highest trade seen in Nola since June 2012.
As US Gulf values increased, buyers in Brazil also stepped up with granular urea sold over $24-28pt cfr above sales that took place a week ago. With the two largest importers in the west now likely to be competing for tonnes at a time when India is also faced with a urea deficit, the next few weeks could well see urea values ramp up even further.
By Neha Popat, Nitrogen Market Reporter