Petronas has become the first producer to commit granular urea at $1,000pt fob. The sale for a 6,000t cargo for second half December loading in Malaysia will be shipped to a nearby market, most likely South Korea.
With the supply of urea globally increasingly tight, buyers in need of product are now scrambling for whatever is available, and have been left with no choice but to increase bids by a significant amount. Indeed, the latest Petronas sale is an increase of over $100pt fob from bids that were heard last week.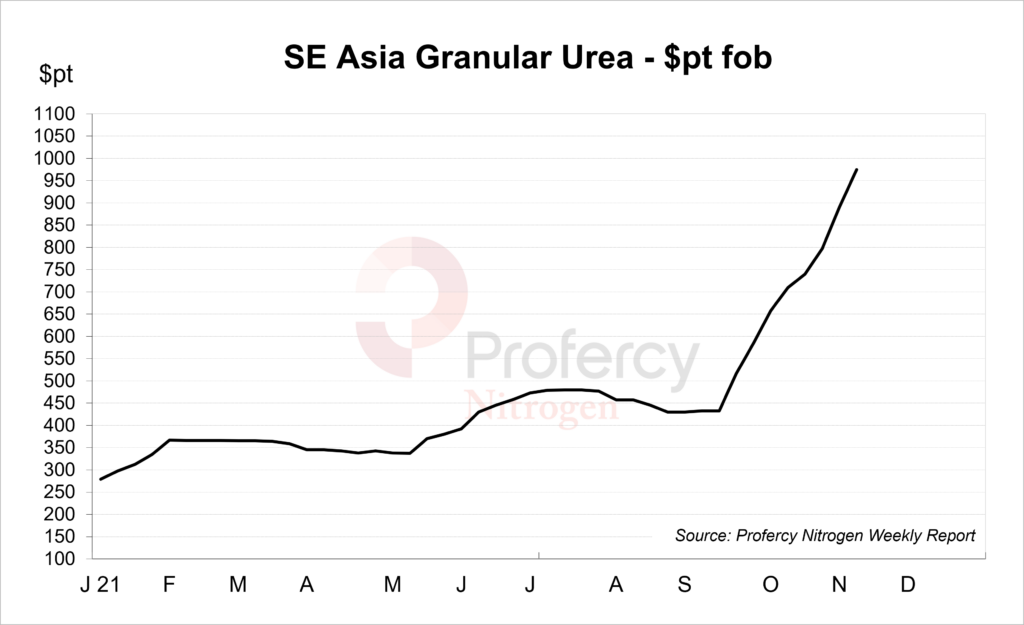 Although many agricultural markets in the east are currently in the offseason, demand remains from the industrial sector for small sized shipments. With China out of the international urea market owing to government controls, and export business reduced to minimal levels, its absence is now greatly being felt.
This challenging situation is evidenced by the supply squeeze in South Korea. The country imported 80%, or 567,000t, of its urea requirements from China during January-September this year. This is a significant chunk from its total imports of 703,000t during the period.
The biggest concern in South Korea is the impact that the lack of urea will have on its logistical system. The country has diesel emission standards that are on par with the European Union. Over ten million vehicles in the country therefore require diesel exhaust fluid (DEF), which contains 32.5% of urea.
The office of the President of South Korea has recently launched a special task force to deal with the shortage of urea caused by China's ban on exports. According to latest media reports, the government has now said it can secure a five-month stockpile by importing urea and its solution from Vietnam, Saudi Arabia, and other nations.
Eastern buyers struggle to find alternatives to China
In recent weeks, Korean buyers have been actively seeking alternatives, including inquiries to Middle Eastern and other SE Asian suppliers. However, this is proving to be difficult with Middle East suppliers unable to ship small cargoes, and given the extremely tight availability from producers in SE Asia.
Production in Indonesia has been restricted owing to maintenance work on one Gresik line which has now been down for several weeks. Furthermore, earlier big volume sales and domestic requirements are expected to prevent exports from the country for the balance of 2021.
Availability from Malaysia is also limited with Petronas' Bintulu plant shut down earlier this month for scheduled maintenance. The facility is expected to remain offline for around 45 days, and much of the producer's November and December production has already been committed on contract offtake agreements. While some spot availability may still be available ex-Malaysia, with India once again the premium market globally the cargo could potentially be shipped there under the latest IPL purchasing inquiry.
Production from the new BFI complex is yet to be felt in the market.
Small volume shipments are available from Vietnam, both domestically produced product, as well as re-exports of Indonesian material. However, this alone is expected to be insufficient to satisfy the levels of demand currently being seen from South Korea and other Asian markets.
By Neha Popat, Nitrogen Market Reporter