Ambitious plans for a $2 billion blue ammonia facility in Louisiana that will capture at least 90% of CO2 emissions are a key step towards the fertilizer giant's goal of net-zero, Ashley Harris, Vice President of Environmental Performance and Innovation tells Profercy in an interview.
From gleaming offices in the heart of the Canadian Prairies, Nutrien executives have developed blueprints for a showcase nitrogen manufacturing project that will produce 1.2m tonnes/year of low-carbon ammonia from a new base at the group's existing Geismar complex (pictured below).
Now at the vital front-end engineering design (FEED) phase ahead of a Final Investment Decision (FID) in 2023, full production is expected by 2027. The output will be sold to domestic and foreign markets, the latter through Japanese trading partner Mitsubishi, which will ship cargoes to Asian buyers.
By permanently sequestering more than 1.8m. tonnes/year of CO2 in dedicated geological storage via long-term energy partner Denbury, the project will play a key role in achieving Nutrien's 2030 Scope 1 and 2 emissions reduction goals, as part of its "Feeding the Future Plan".
The Saskatoon-headquartered group is not alone in its aim, with billions of dollars of investment pouring into the global blue and green ammonia/hydrogen arena as part of a concerted public and private sector attempt to reduce harmful emissions and combat global warming.
This favourable pattern is also seen on the demand side, with Japan pledging to use 3m. tonnes/year of ammonia for power generation by 2030. That figure will soar to 30m. tonnes/year by 2050 if the Asian industrial giant manages to convert all its coal-fired power plants to ammonia feedstock.
According to the International Energy Agency (IEA), global ammonia production accounts for around 2% of total final energy consumption and 1.3% of CO2 emissions from the energy system.
In the short to medium term, most producers are – to date – looking at converting long-established plants into low-carbon units through carbon capture, while others – especially those with easy access to wind and solar power – are pursuing the green ammonia pathway.
While acknowledging the production cost of green ammonia technology is higher than that for its blue counterpart, Harris believes there is more than enough room for the two technologies: "We believe it's critical to develop both pathways, blue and green and are certainly interested in both," he confirms.

"They can co-exist; different regions have different competitive advantages. Natural gas costs in some countries are favourable, while other places have abundant renewable electricity they can leverage.
"The development of low-carbon and clean ammonia will accelerate the decarbonisation of all the agricultural and industrial sectors we serve. The Geismar project is unique as it features at least a 90% reduction in CO2 emissions.
"The IEA Ammonia Technology Roadmap lays out sustainable development solutions that call for the construction of electrolysers at large scale, as well as the transport and storage of CO2 capture.
"We've signed the deal with Mitsubishi, but we're also talking to other sectors, including companies in the marine fuel sector like bunker traders, as well as players in existing markets where we see demand growth."
Against the backdrop of war in Ukraine and the loss of significant volumes of Russian fertilizers due to sanctions and logistical hurdles, the international political and press spotlight is focused on food security and the role the fertilizer industry can play in avoiding famine and higher food costs.
"Conflict aside, there are clearly some structural supply challenges and any acceleration in the near-term or longer-term food security wise will require a lot of extra capacity," Harris continues.
"We have strong conviction that the ammonia market is structurally undersupplied for the next decade, maybe longer. In the existing markets we see tightness in supply."
Nutrien's announcement arrived the same month that CF Industries teamed up with Japan's Mitsui & Co. Ltd to develop a blue ammonia plant in the US Gulf featuring technology that will reduce carbon emissions by more than 60% compared to conventional ammonia units.
Given the relatively high freight costs for ammonia, the long-distance shipping of low-carbon volume means production costs at such plants will need to be competitive. Although, as the Nutrien executive highlights, US tax credits that will benefit producers of blue ammonia to the tune of $35-50pt.
"We chose Geismar for the clean ammonia project as it has a number of advantages, including domestic market access and the ability to export," he says. "We will also benefit from the 45Q Tax Credit [for Carbon Oxide Sequestration].
"We're also investigating other sites; what opportunities might look like and when and the order they could be launched."
Asked if clients will be prepared to pay premiums for low and zero carbon ammonia, Harris is confident such worries are misplaced. "Some incentives for farmers to pay more are needed," he agrees. "[But] our customers wouldn't be too excited if we built a traditional ammonia plant and released all the emissions into the atmosphere; 90% carbon capture is very attractive."
The emerging marine fuel sector is also a growing area of interest for ammonia manufacturers. Last year, Nutrien signed a collaboration agreement with shipping major EXMAR to jointly develop and build one of the first low-carbon, ammonia-fuelled maritime vessels to help decarbonise shipping.
The clean ammonia project appears a natural fit, even though commercial marine vessel engines are still in their infancy. "An ammonia-powered engine could be available mid-decade," Harris adds. "At that point we would look to see what a carrier would look like. It makes sense for a vessel to be carrying ammonia if there is an engine that can be fuelled by ammonia."
With the FID on the Geismar plant no more than 18 months away, Harris is convinced the push to green and blue fertilizers made from low and zero carbon ammonia is just a matter of time.
"Emerging markets like the marine fuel segment are of interest, but our commitment to the development and use of clean ammonia is prominent in our strategy to decarbonise while addressing food security. We're pretty excited," he concludes.
By Richard Ewing, Head of Ammonia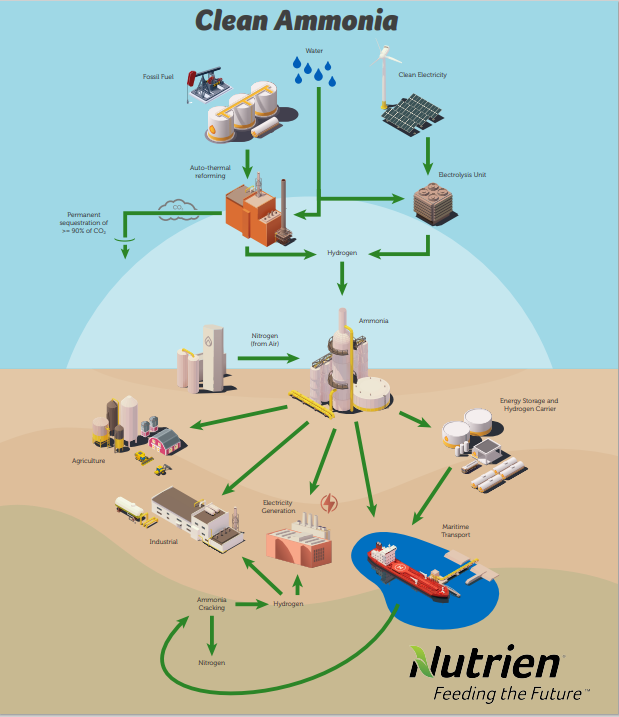 Clean-Ammonia-Infographic-2022-May-20-2022 (Click to enlarge)