While the European energy crisis has dominated news and business headlines in recent months and underlined the importance of the continent's many ammonia producers to global fertilizer markets, trouble has also been brewing in northeast Asia, albeit without the same amount of press coverage.
Through an unfortunate combination of devaluating regional currencies against the US dollar, higher raw material costs and softer chemicals prices, major industrial users of ammonia in South Korea, China, Taiwan and Japan have slashed their import requirements to the bare minimum.
Data compiled by Profercy shows ammonia deliveries to that quartet for the nine-month period ending today was 1.17m. tonnes, down a whopping 53% from the 2.46m. tonnes shipped to the region in the same 39 weeks of 2021.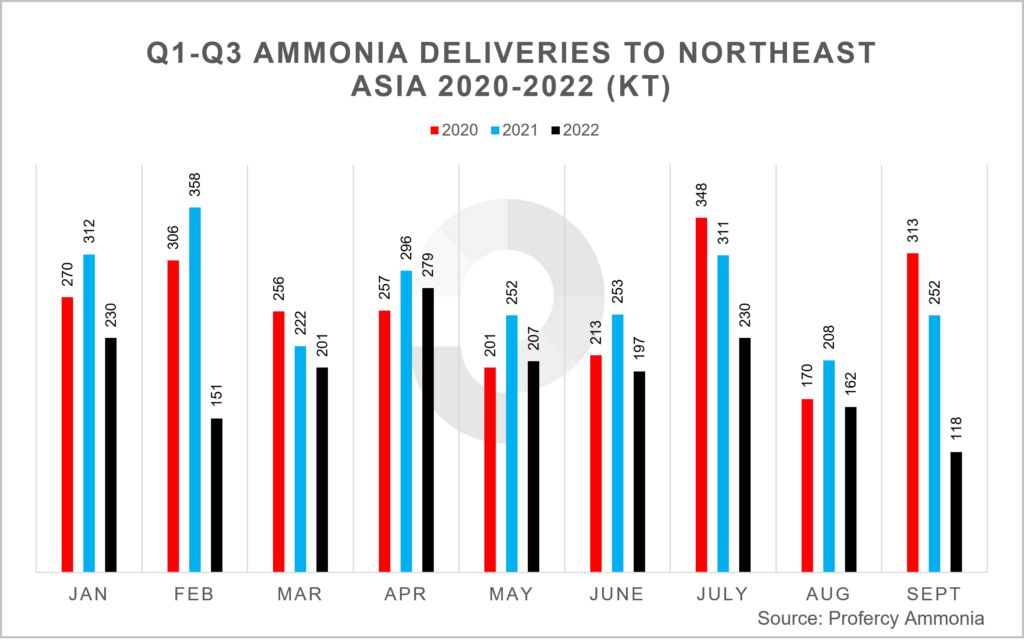 That huge drop in demand from chemicals manufacturers who use the feedstock to create products like caprolactam (capro) and acrylonitrile (ACN) partly explains why upward price pressure west of Suez has been relatively tame, even amid the loss of millions of tonnes per year of Russian volume.
Suppliers in the Middle East and southeast Asia have been regularly diverting shipments to various spot buyers in Europe and north Africa, to take advantage of the higher prices generated by the shutdown of at least 40% of Europe's ammonia plants amid volatile gas costs.
This east to west trend was illustrated starkly earlier this month, when Norwegian giant Yara loaded 25,500t at its plant in Western Australia and shipped it thousands of miles west to group units in Norway and Germany. A smaller vessel is expected to almost copy that voyage in October.
Meanwhile, with contract delivery volumes slashed due to high inventories and producers in nations like Indonesia and China seeking to maximise returns, a steady flow of cargoes earmarked for long-term clients in northeast Asia has ended up with spot buyers in Europe and Morocco.
Our data shows third-quarter ammonia deliveries to northeast Asia – which include 15-30,000t per month of Chinese volume shipped from southern ports to northern buyers – totalled only 510,000t, versus 771,000t in the year-ago period and 831,000 in July-September 2020, down by 34% and 39%, respectively.
Demand is likely to fall even harder in the final quarter of the year, with turnaround season for capro and ACN units set to get underway, meaning market participants see no rebound in import orders until early 2023, particularly if China implements more Covid-lockdowns.
"The situation facing capro and ACN producers is super, super bad. They're just losing money," one major ammonia supplier noted recently, while another described the current scenario in northeast Asia as the "worst in more than 25 years".
The clear winners from the slide in ammonia demand east of Suez have been large buyers in Western Europe, who saw prices rocket earlier this year when the taps to around 4m. tonnes/year of Russian exports were turned off indefinitely.
The recent commissioning of two export-oriented ammonia plants in Saudi Arabia and Oman with a combined annual capacity of 1.46m. tonnes/year has added to Western buyers' supply choices and – along with higher export volumes from the Americas – applied the brake to price rises in northern and southern Europe.
While prices remain well above traditional levels, the elevated figures seen in northwest Europe this spring and summer are nowhere near as high as they would have been had industrial demand in Asia Pacific been anything like its normal amount.
The bearish picture in northeast Asia is unlikely to change anytime soon given the imminent winter season when ammonia demand traditionally falls away.
The topic will undoubtedly be at the forefront of delegates' minds at next week's IFA Crossroads Asia Pacific conference in Singapore, with the event usually firing the starting gun on talks over 2023 supply arrangements for regional players.
By Richard Ewing, Head of Ammonia