Profercy's Tom McIvor dives into the shifting supply dynamics of the global phosphate market in 2023.
Entering September, it's now possible to make a stronger assessment of expected DAP/MAP demand/supply for the full year 2023 based on reported sales, latest trade data and likely activity in Q4. Here I focus on how market share amongst key suppliers is set to change this year and the ongoing strategies which differentiated producers from 2021 to 2023.
Global DAP/MAP import demand has seen some recovery this year as prices dropped in H1, likely bringing in an extra roughly 3Mt after the 15% crash in 2022 imports. However, this is still 10% below global imports in 2020 (2.5Mt lower) as multiple countries tackle financing woes, currency headwinds, weather-related demand destruction and many other factors. Further details on the basis for this demand recovery and our expectations can be found in Profercy's weekly Phosphates & NPKs report.
Five countries make up roughly 90% of global DAP/MAP imports, namely China, Morocco, Saudi Arabia, Russia and the USA. The decisions of these players differ greatly in 2023: Chinese availability is still constrained by government quotas, Morocco is limiting fertilizer exports despite increasing capacity, Mosaic is attempting to balance higher supply to its domestic and overseas commitments, while Saudi Arabia and Russia are pushing out supply near-capacity and gaining market share.
China
Surging DAP/MAP prices closing out 2021 led the Chinese government to impose strict quota controls from October 2021. These controls led to a 4.4Mt crash in Chinese DAP/MAP export supply last year, dropping China's share of global import demand from 32% in 2021 to just 20% in 2022.
In early 2023, international market prices declined below the point quotas were originally imposed and with good stocks built for China's 2023 spring season, some allowance was made for extra volumes to be exported. Combined DAP/MAP exports for Jan-July 2023 reached 4.0Mt, up 54% yr-on yr but still down 35% on Jan-July 2021. Signs suggest a more tempered level of export rise through H2.
DAP/MAP volumes being reported for Aug/Sep loading are limited, likely at around 600,000tpm versus as much as 1Mt in June. This is despite capacity to produce much more and higher prices, indicating Chinese suppliers over exported against the CIQ in H1 and were constrained in the final two months of the Jan-Sept quota. The Q4 DAP/MAP/NPs quota is indicated at 1.8Mt (largely flat on Q4 2022) as the government looks to maintain supply to its crucial domestic market entering 2024.
As a result, total DAP/MAP exports from China in the full year 2023 are now likely to reach roughly 6.8Mt. The expected total is 28% higher (up 1.4Mt) on last year but should remain 30% lower (down 3.0Mt) on total exports in 2021. Based on expected demand, this should bump back up China's share of global DAP/MAP imports slightly, to 23% for the full year 2023.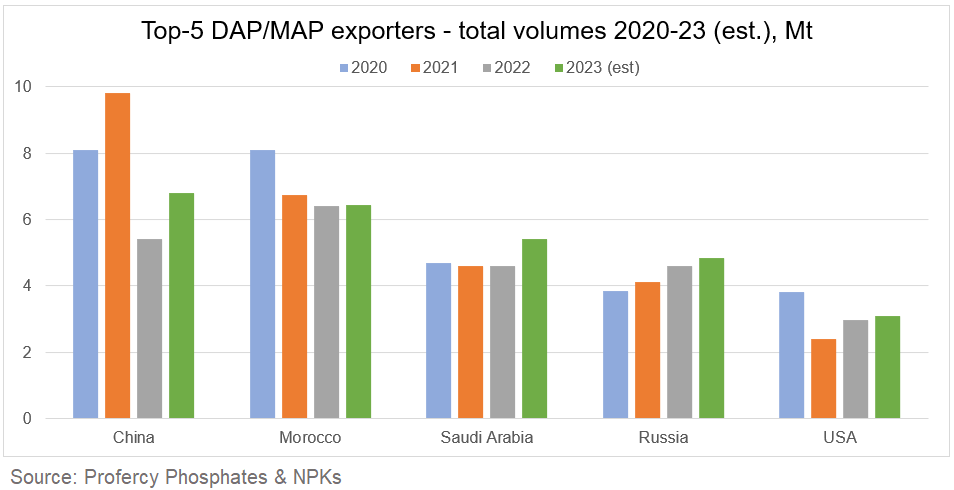 Morocco
OCP reduced its fertilizer export availability heavily in 2021 and 2022 despite increasing capacity and rising international prices. This was likely part of a strategy to not oversupply markets and maintain higher prices as ammonia costs skyrocketed. Despite total fertilizer export capacity of roughly 12Mt in 2022, total exports last year reached just 9.3Mt, including 6.2Mt DAP/MAP.
So far in 2023, OCP is maintaining this strategy despite lower costs and more capacity coming online. Morocco's fertilizer exports in H1 reached just 4.6Mt, 2.7% lower yr-on-yr, and down 21% on the 5.8Mt exported in H1 2020. OCP's June fertilizer exports reached 816,979 t, according to latest data, up from 623,862 t in June 2022 but still well below monthly capacity of roughly 1.1Mt fertilizer.
Entering H2, OCP activity has increased with roughly 1Mt fertilizer sales in the last five weeks and the company likely set to be awarded another 1.36Mt NPS to Ethiopia for November-May 2024 shipment. However, the average 800-825,000tpm sales which look likely for July-October are only slightly above last year. As a result, OCP's DAP/MAP exports are forecast to rise just 1-2% this year to 6.3Mt, with global market share at 22%, down from 24% last year but flat on 2021.
Saudi Arabia
Production inefficiencies limited the ability for Saudi Arabia to increase production in recent years despite plans to reach full capacity of 6Mt ammoniated phosphates back in 2019. DAP/MAP exports sat at 4.6-4.7Mt each year from 2020-22, which still increased Saudi Arabia's global market share in 2022 to 17% from 15% as total demand fell.
However, 2023 has seen operational improvements which helped the country reach capacity production. Ma'aden confirmed in its Q2 earnings presentation that ammoniated phosphate production and sales volumes from Saudi Arabia reached a record 3.1-3.2Mt in the first half of 2023, 28% higher than in the same period 2022, reflecting an extra 600-700,000t DAP/MAP in H1 alone.
Although Ma'aden faced an unplanned phosphate shutdown in early August which reduced production by roughly 90,000t, there are no signs of a significant slowdown in sales from Saudi Arabia. Full-year 2023 DAP/MAP exports from the country are now expected at a record 5.4Mt, increasing its market share again to 18%.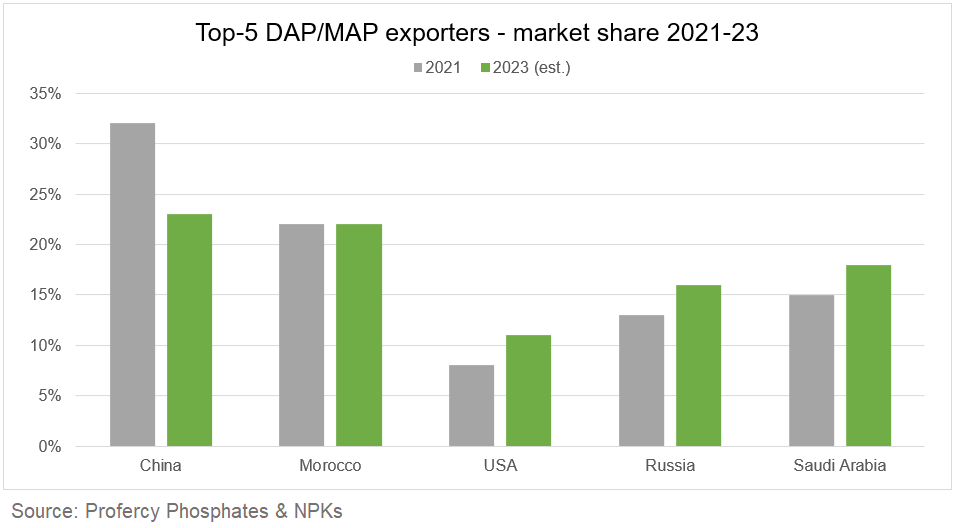 Russia
The war in Ukraine has had no negative impact on overall DAP/MAP exports from Russia. In fact, volumes have continued to see a steady rise in recent years as new capacity comes online. Since the war began Russia has offset some limited reductions in European sales with higher activity to so-called 'friendly markets' across Latin America and South Asia.
In 2022, DAP/MAP exports reached roughly 4.6Mt, up from 4.2Mt in 2021 and 3.8Mt in 2020.
While Russia is set to impose a 7-8% export tax on all fertilizers from 1 September, this is unlikely to slow activity with government pressure to keep up sales and support the country's economy. Volumes have continued to rise, and DAP/MAP exports are expected to hit 4.8-4.9Mt this year. Russia's market share is set to reach 16-17% from 13% in 2021.
USA
US DAP/MAP exports reduced substantially after 2020 as Mosaic focused sales in the domestic market when new countervailing duties against Morocco and Russia came into play. Since then, US exports have been recovering each year, though these still lag well behind volumes in 2020.
Mosaic's H1 2023 phosphate fertilizer production from its US operations rose to 3.5Mt from 3.4Mt with DAP/MAP sales volumes up to 1.95Mt from 1.7Mt. Some of the increase has been placed in the tight US domestic market though exports have also increased. Full year DAP/MAP exports from the US are expected to be up another 100-200,000t in 2023, increasing its market share to 11% from 8% in 2021.
China and Morocco combined made up 54% of the global DAP/MAP exports in 2021. In 2023 this is expected to have dropped to 45%. At the same time the combined Saudi Arabia, Russia and US market share is likely to also reach 45% in 2023, up from 36% in 2021. Notably, although demand is expected to see further recovery in 2024, Saudi Arabia, Russian and the US have limited capacity to again increase DAP/MAP exports next year.
By Tom McIvor, Joint Head of Phosphates/NPKs & Potash, Profercy