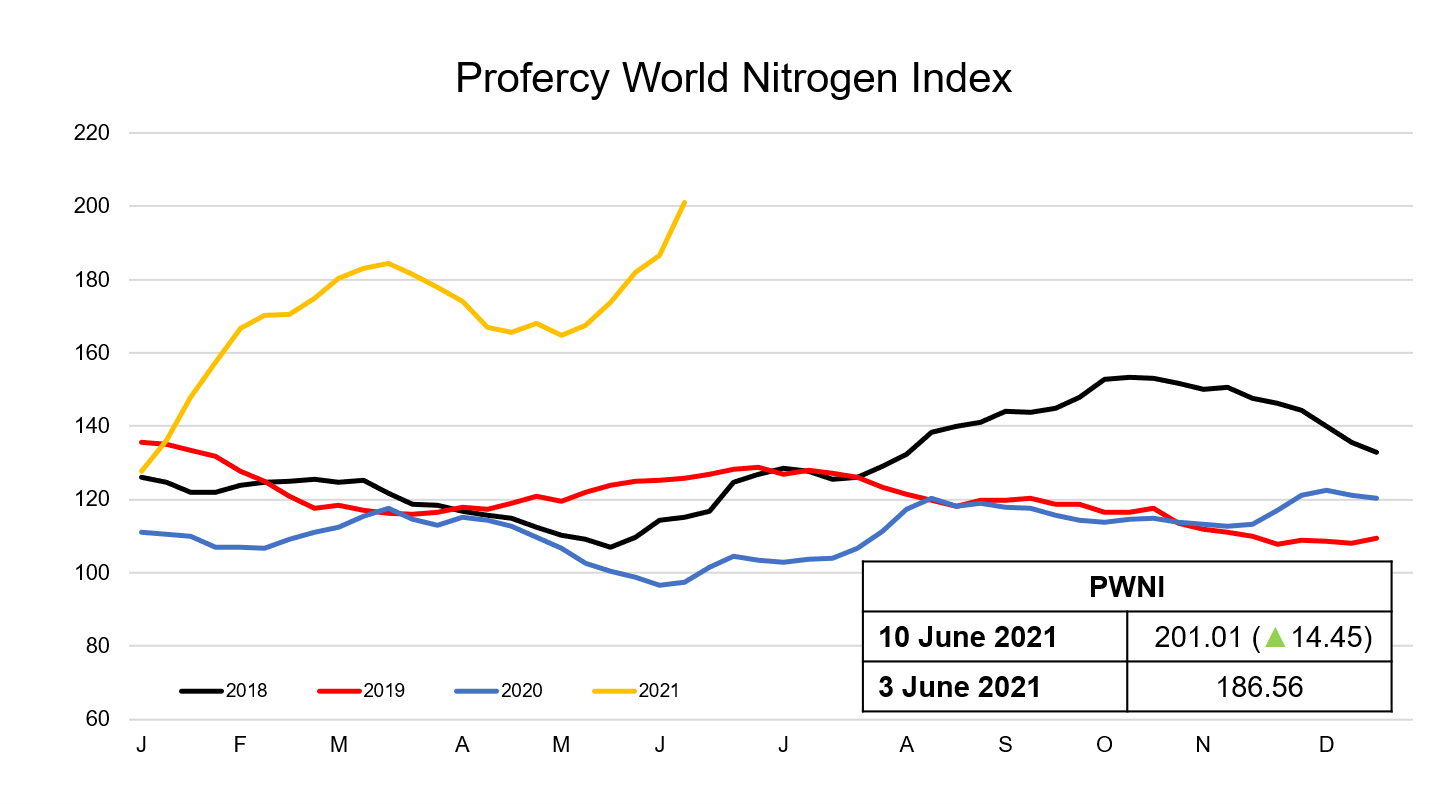 The Profercy World Nitrogen Index gained by 14.45 points week on week to 201.01 points. This is the single biggest week on week increase since January 2009. The last time the Index was above 200 points was in March 2013. Global nitrogen prices remain firm with urea, amsul and ammonia values climbing this week.
Urea: China's absence from international markets and global turnarounds hits supply
The price rally that began in May has shown no signs of slowing. $40-50pt gains in the derivatives market early in the week were quickly followed by comparable increases in the physical market.
Producers, especially in Egypt, have been sold forward for some time, while export availability for July and August has been impacted by turnarounds and, in many regions, strong domestic demand. Most notably, Chinese producers are focused on the domestic market with ex-works values reflecting up to $440-450pt fob for prilled and granular urea. Only modest export business has taken place as a result and at elevated prices.
Eastern supply has also been impacted by planned maintenance work in Indonesia and Malaysia, as well as unplanned shutdowns in the Middle East.
Export availability has slimmed west of Suez as well, with Egyptian producers reluctant to quote for export given government mandated domestic requirements of 323,000t/month. Further, Russian and Ukrainian producers have planned maintenance over the summer months.
Meanwhile, in the USA several domestic producers are undertaking turnarounds, while Profertil Argentina will be down for two months. Indeed, reduced production in both countries has spurred significant import demand. Argentina has received a steady flow of Egyptian material with cfr values passing the $500pt cfr duty exempt mark this week, an increase of more than $45pt on last week. In the US, July and August arrivals will be well ahead of previous years with distributors securing product from the FSU and Algeria.
Buyers elsewhere, particularly those usually able to secure Chinese material, have struggled to find product. This has already impacted India, where successive tenders have seen limited volumes booked from China. This will be tested again soon with a fresh purchasing inquiry for shipments to end-July awaited.
Ammonia: Eastern supply shortfall lifts fob prices to 2014 levels
Some 130,000t of ammonia has now been booked from the FSU, North Africa and Trinidad to cover the supply shortfall in the East. This has resulted in prices soaring upwards with the Black Sea hitting its highest levels since 2014, $525-530pt fob.
The Asian supply issue is not expected to be resolved quickly with Saudi Arabian supply due to be restricted through July, possibly longer. Meanwhile, further inquiry is evident for ammonia from Asia to cover the production losses in Indonesia. With phosphate prices at extremely high levels, higher ammonia prices can be absorbed by DAP/MAP producers and, therefore, there is little prospect of demand destruction from this sector.
Amsul & Nitrates: Nitrates struggle to keep up as amsul surges
International ammonium nitrate values have increased along with the wider nitrogen complex. However, by comparison to the gains made by urea, AN continues to move at a sluggish pace. Baltic AN's discount per unit N to Baltic prilled urea remains at minus 15%, recovering just 1% week on week despite outright values for Baltic AN increasing by around $20pt week on week.
For ammonium sulphate, similar to other products, 2021 has been anything but typical. This week, Chinese capro amsul made the single biggest week on week gain on record, up $11pt to $170pt fob and above. The gains were driven by an even sharper increase in domestic values, which advanced to as high as $190pt fob export equivalent. The knock on impact has been higher offer levels from compacted amsul producers who use standard capro and steel grade amsul as feedstock. Unlike during February-April, these increases are being passed on to buyers in Brazil and due to the strength in urea markets, these increases are being accepted by buyers.
By Michael Samueli, Daily Editor, and Chris Yearsley, Director of Profercy Nitrogen